Good question.
The Catechism of the Catholic Church is a MUST-HAVE book for every Catholic and now that it has been published for over 30 years there are a few different printed copies (though the actual contents of the various editions are nearly identical).
So, which one should you buy?
The answer: It really depends on your taste. And how you plan to use it.
For instance…
Do you prefer hardcover or softcover? Will it be used by you on the go? Or will it only be used when sitting at a desk? Would you like it to include a commentary? Or are you looking for the simplest edition?
These are all important questions for anyone looking to get serious about the Catechism, and my hope is that this article can help you sort through these questions.
---
Here are your different options: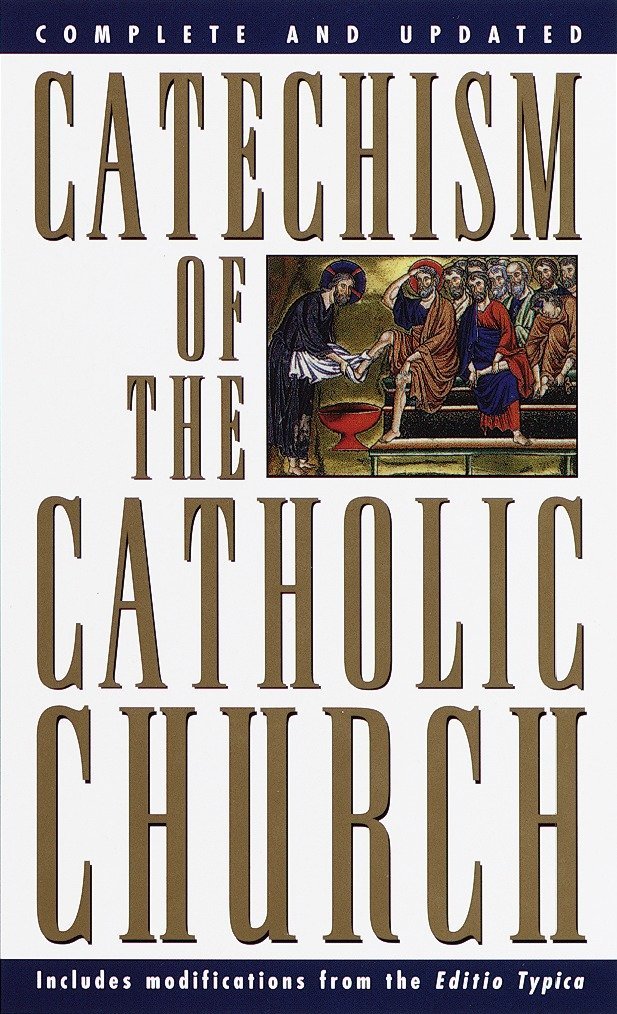 This is the original pocket Catechism (originally came out in 1995). It's a softcover with small print, and not much wider or longer than a large smartphone. It's also a very affordable option, usually available for only around $10.
With that said, unfortunately it's fairly thick for a "pocket" Catechism and isn't my preferred option if you're buying it for its size (a better pocket edition is below!). Lastly, even though the original came out in 1995, the version for sell today is up-to-date!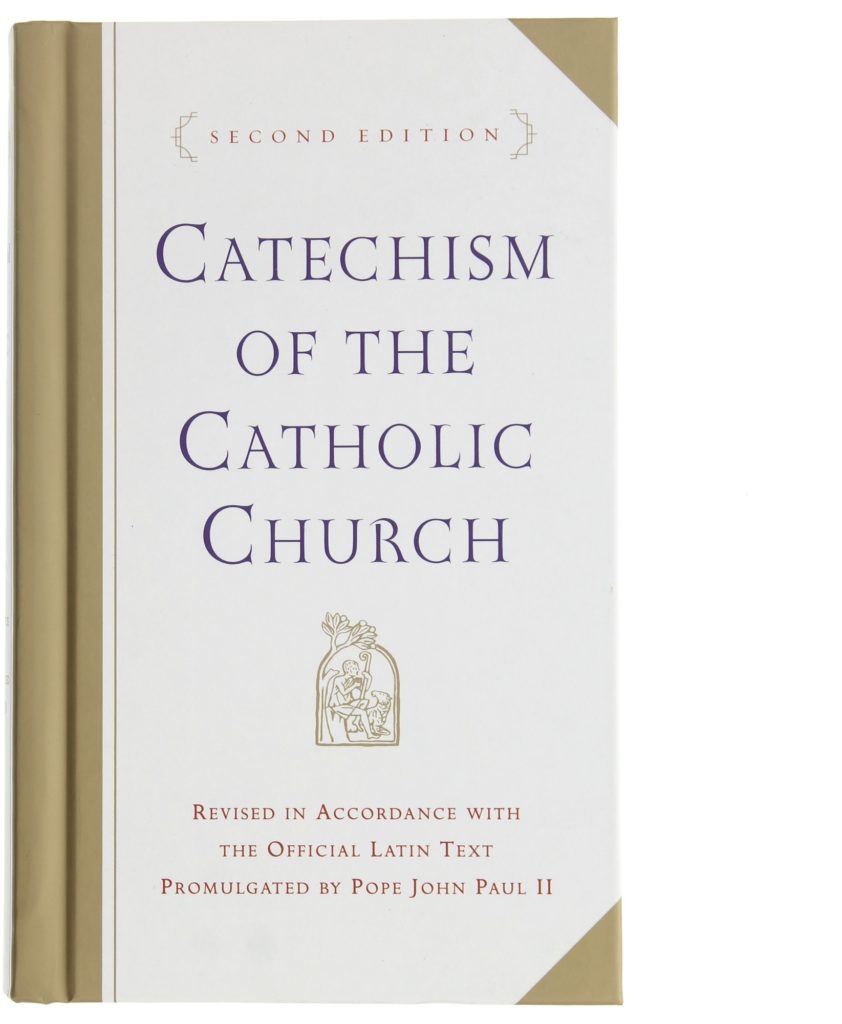 Based on its size (nearly identical to the original pocket Catechism above) it could be considered a pocket Catechism in its own right, however, this edition includes a hardcover, making it fairly unlikely you'd be putting it in any pocket or purse.
That said, the cover is beautiful! Upon receiving this Catechism you will be "wowed" at its smooth white and gold cover. In addition, this is easily the most popular Catechism right now as it's not only beautiful and compact, but it can often be found for only around $14!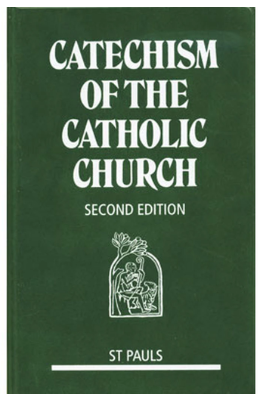 This is by far my personal favorite edition of the Catechism of the Catholic Church. Why? First, it's the only copy that comes in a durable vinyl cover. Durable enough to bear spending much time in a purse or backpack and still appearing new.
Second, it can be considered a "pocket" edition in that it is around the same width and length as the two Catechisms above, but there is one significant difference that sets it apart: it's about half the thickness! Amazingly, this Catechism appears to be no larger than most devotional prayer books and, in my opinion, it's the truest "pocket" edition out of the three mentioned in this article due to its size alone.
Lastly, due to its vinyl cover, this Catechism is quite sleek and will have all your Catholic friends asking where you got it. With all that said, the worst part is that this edition is the hardest of all the Catechisms to find if you live in the U.S. due to its publishing house being located in Australia.
You are truly blessed if you're able to get your hands on one of these. If you're interested in getting this version, Franciscan University of Steubenville is selling them here.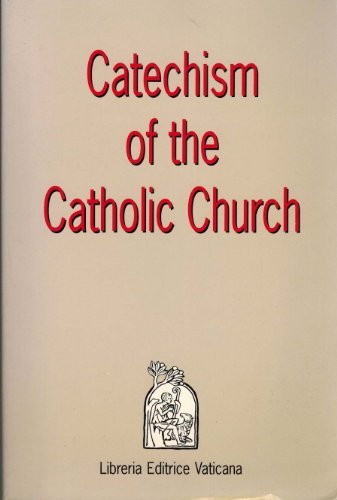 This is the original bad boy. The Catechism of the Catholic Church was originally promulgated and published in 1992 and translated from the original French to the vernacular throughout the world. Meaning, this copy is the English translation from the original French text (French was the chosen language of the original authors due to their shared proficiency in the language.
It wasn't until 1997 that the "Second Edition" of the Catechism was published in Latin by the Church [this is the source of our English versions today]. The Latin text of the CCC is the official text of the Church.).
This edition, though being the original Catechism of the Catholic Church, is now considered out-of-date due to the fact that upon the publication of the Second Edition in Latin in 1997 several edits were made to the text, especially in regards to the cross-references and footnotes. Therefore, it wouldn't make much sense to purchase one of these today unless you were a Catechism collector, like myself.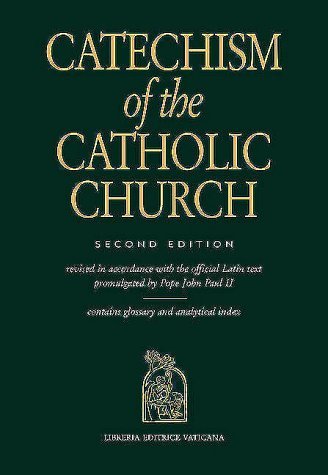 This is probably the most recognized of all the editions of the Catechism, known for its famous green color. It's a full-size book and feels a little bit like a textbook. You can find this edition in both softcover and hardcover.
Before 2019 I would've recommended this edition for those who prefer larger text, but ever since the blue-cover edition (see #6 below) was released in 2019 it seems that publication of this green edition has stopped.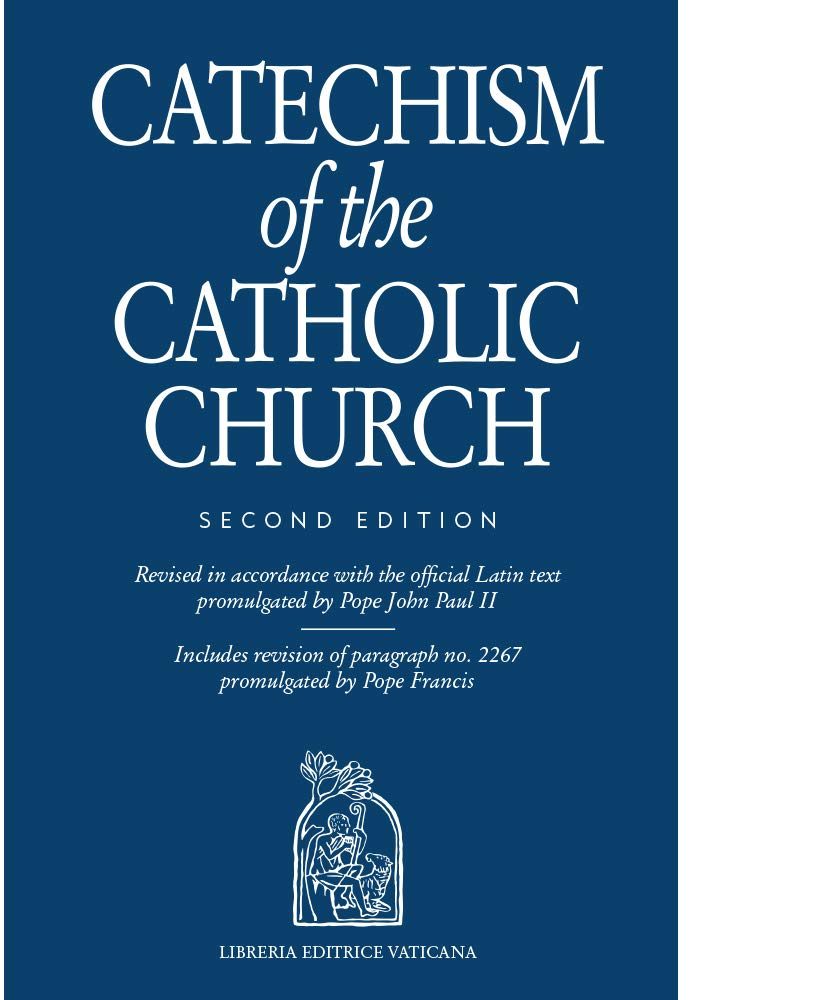 If you're looking for the most up-to-date and basic (in contrast with #7 & #8) edition of the Catechism of the Catholic Church (and don't need a pocket edition) then this is what your'e looking for. It looks and feels just like the well-known green Catechism (#5) above, yet it's blue.
And truthfully, blue looks a heck of a lot better than green. Therefore, if you want the most up-to-date edition and you'd prefer larger text, this is the one I'd recommend.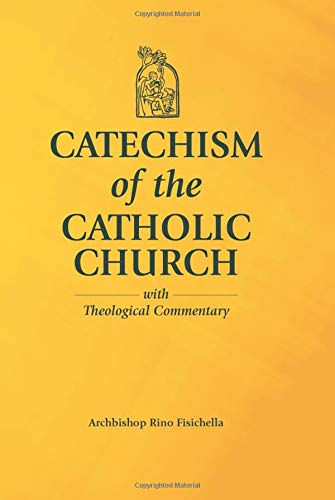 This has been my second favorite edition of the Catechism (behind #3). Why? Because not only is it up-to-date (released in 2020), but it contains a theological commentary that is almost near equal length of the Catechism itself! Yes, that probably sounds overwhelming. But, at least for me, I've found that this edition is a true "Study-Catechism" (like a study-bible).
In addition to the theological commentary, there's a lot of space in the margins to write notes in this edition. I feel like I can really dive deep when reading from this edition. Lastly, it's also very unique in its style in that its hardcover is a smooth yellow cover (a totally different look from all other editions).
OK, if you have some money to spend and value not only the truth expounded within the Catechism but also the beauty in which it is presented… then THIS is your Catechism. It was released in 2022 and is absolutely beautiful. It is the only edition of the Catechism of the Catholic Church that is color-coded on the inside and includes extra well-designed tables and infographics to further your understanding of its contents. This one is quickly becoming my new favorite edition!
Be aware, however, that this is a full-size Catechism and not a pocket edition. Though it's not made for your pocket, it's cover is an imitation leather that keeps it looking new for a while even if carried around in a backpack or purse on a regular basis.
---
Closing Thoughts
So, at the end of it all… which edition of the Catechism is right for you?
Well, in my opinion…
✔️If you simply just want a copy of the Catechism to have in your house that you can keep on your bookshelf and have access to when you need it, I recommend you get a copy of The Everyone's Favorite Color is Blue Catechism.
✔️If you're looking a for a compact, pocket Catechism, I highly recommend you begin your search for The Hard-to-Find Australian Vinyl Catechism. You won't regret it!
✔️If you're a theology nerd like me, or you just want to really break open the contents of the Catechism, I recommend you get yourself a copy of The Theologian's Catechism. It's on the higher end price-wise, but you're getting nearly twice the amount of content compared to the editions above.
✔️Lastly, if you want a Catechism with all the bells and whistles and you have the money to spend, then don't even have a second thought… go get yourself the Beautiful, Ascension Edition!
Final Showdown: The Theologian Catechism vs. The Beautiful Ascension Edition
If you are debating between #7 and #8 because of the extras they each include that the other editions don't, then here are my thoughts:
Whereas I'd recommend the "Theologian's Catechism" above for those who have a deep love for theology (i.e., someone who'd want a degree in theology), the "Beautiful, Ascension Edition" is definitely designed for the ordinary lay Catholic who is just looking to deepen their love and understanding of Church teaching. You'll find that the extra theological reflections in the "Theologian's Catechism" are on the technical side and, therefore, better suited for someone trained in theology.
I really hope this article was helpful in finding you the right edition of the Catechism!
---
Which Catechism of the Catholic Church do you own or plan to purchase?
Let me know below in the comment box!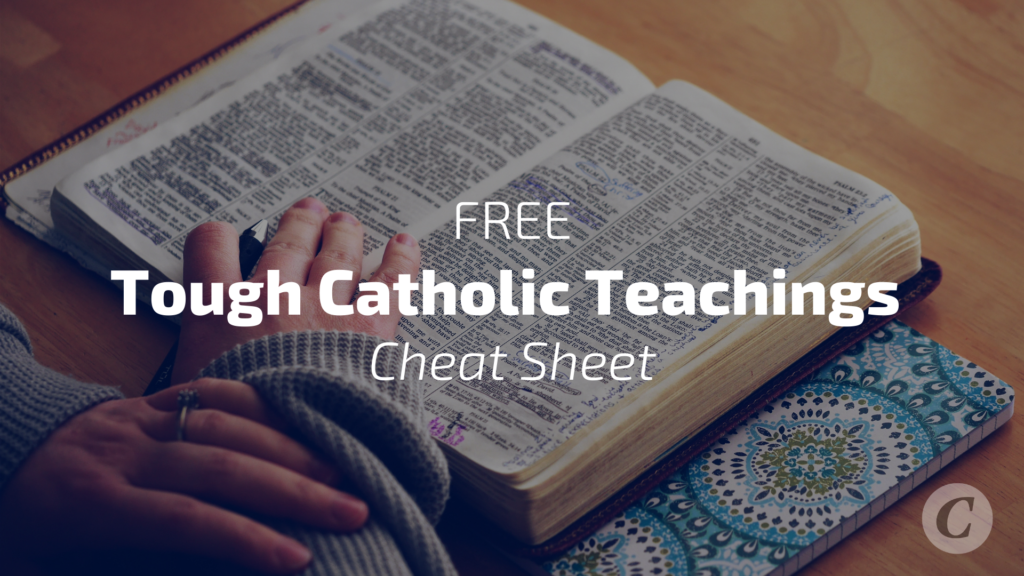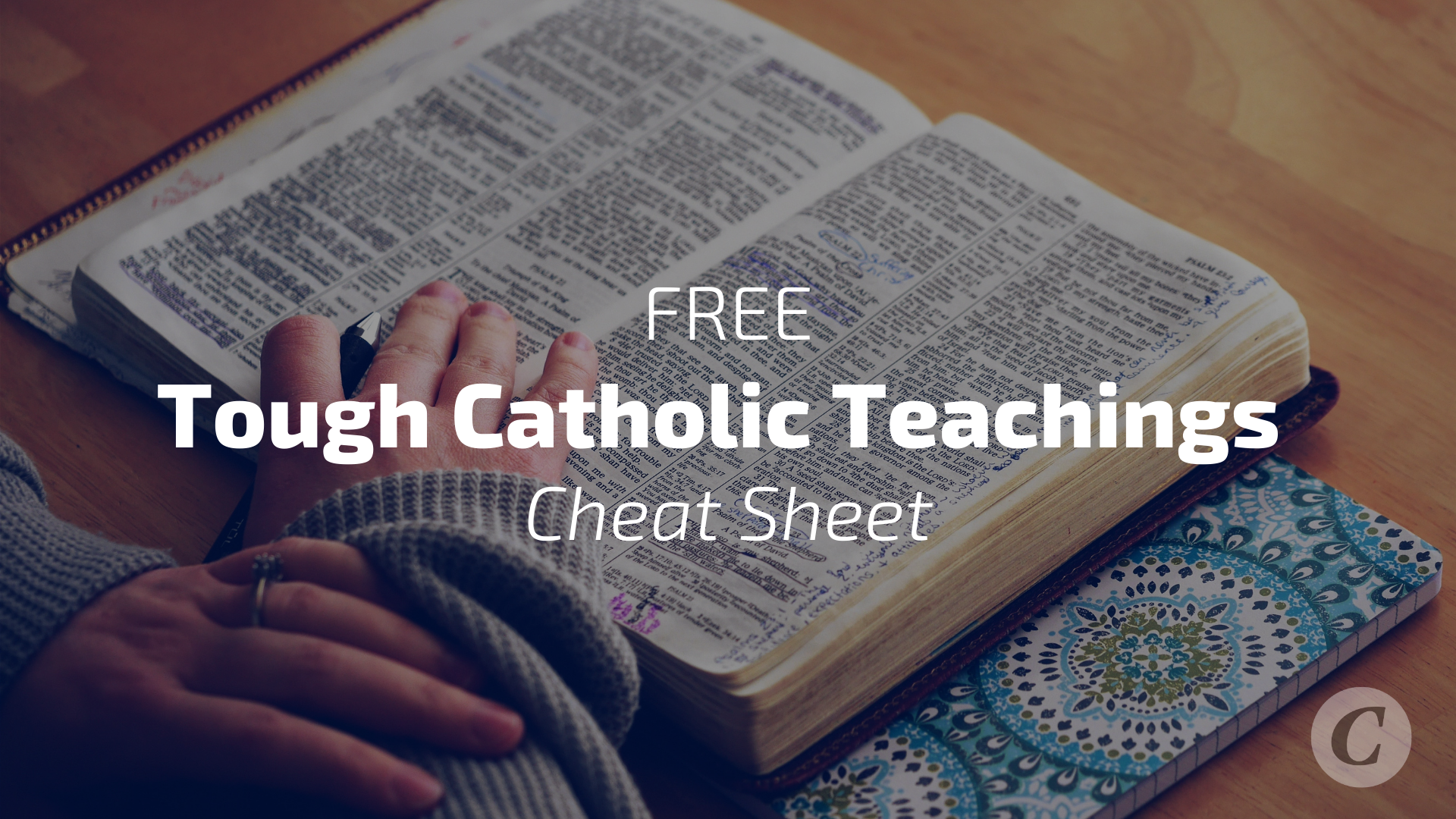 ---
Are you often asked what the Catholic Church teaches about tough subjects? Are you curious about what the Church teaches?
In this Tough Catholic Teachings cheat sheet I provide for you direct links to the paragraphs in the Catechism of the Catholic Church that speak specifically about these tough topics.
You won't need to go searching for what the Catholic Church actually teaches about these subjects as you will have direct access to the Catechism's teaching all in one place!