"For me, prayer is a surge of the heart; it is a simple look turned toward heaven, it is a cry of recognition and of love, embracing both trial and joy."
St. Thérèse of Lisieux
---
For Catholics, prayer should be the most important conversation of our day. That being said, there doesn't exactly need to be a starting point and an end. Instead, prayer should be an ongoing conversation we have with God throughout every day.
The Catechism of the Catholic Church tells us what prayer is in paragraphs 2559 – 2565. Unfortunately, as much information on prayer as the CCC provides, you won't find a how-to guide or a list of what is and isn't allowed. This is important. It's not how we pray that matters. The significance is that we are praying.
I know plenty of people who say their most authentic prayers happen at Mass or spending time at the adoration chapel. I also know a few people who will tell you they feel the closest to God while praying at the lake with a line in the water. One of my closest friends tells me that his favorite time to pray is walking his dog every morning. There's no one around to interrupt or break his concentration. He can keep the focus on his conversation with God.
Just as the Catechism doesn't list what is and isn't the best methods of prayer, that isn't the point I'm trying to make with this post. My goal is to write something that will inspire someone to seek a more intimate prayer life of their own. Again, I encourage you to read paragraphs 2559 – 2565 in the CCC. It has plenty of valuable content on what prayer is. After spending some time reviewing what the Catechism says myself, there are three questions I am often asked that I want to provide an answer for here.
What is Prayer?
Paragraph 2561 of the CCC tells us, "Prayer is the response of faith to the free promise of salvation and also a response of love to the thirst of the only Son of God." Because prayer is a response of faith, it's important that it comes from our hearts. Prayer has to be more than just random thoughts. Feelings and emotions need to be involved. This allows us to be ourselves with God instead of what we think He wants us to be.
RELATED: The Immaculate Conception and Mary's "Yes"
The Bible tells us over 1,000 times that our heart is the source of our prayers. Keep in mind, when the Bible mentions the heart, it's not referring to an organ that pumps blood through our body. "The heart is the place of decision, deeper than our psychic drives. It is the place of truth, where we choose life or death."
But the Lord said to Samuel, "Do not judge from his appearance or from his lofty stature, because I have rejected him. God does not see as a mortal, who sees the appearance. The Lord looks into the heart."

1 Samuel 16:7
Prayer requires a humbleness that has to be manufactured through the center of who we are. This is why we pray from the heart. I'm not saying we don't put thought into prayer. We simply don't allow our thoughts to guide our conversation with God.
When our prayer is led with our mind, we pray what we think God wants to hear instead of what we need to say. The goal of prayer isn't to know more about God. The purpose is to know Him more intimately. When our heart isn't involved, we aren't praying to God. We're simply thinking about Him.
Which Prayers are the Most Beneficial?
The Catholic faith is full of beautiful prayers. The Hail Mary, Our Father, and the Jesus Prayer, just to name a few. Each of them has a specific purpose.
I'd never be naive enough to say none of these prayers could ever be recited too many times. That being said, there is a reason why I used the word "recited." Yes, we need to be praying an Our Father. A Hail Mary can be very powerful in times of need. Still, we just discussed the importance of praying from the heart instead of centering in our minds.
If our goal is to live our lives in a personal relationship with God, we have to experience a level of intimacy with Him. Reciting someone else's words will only get us so far. Again, I am not trying to take anything away from the prayers passed down through our faith. Let's look at this in the Bible for just a second.
Related: 3 Reason Why I Don't Pray (especially #3!)
In Matthew chapter six, Jesus teaches the disciples how to pray by giving them the Lord's Prayer. Eight chapters later in Matthew 14, Jesus calls Peter out of the boat and onto the water.
After getting a few steps in, Peter takes his attention off of Jesus and focuses on his surroundings. Peter gets frightened because of the wind and cries out to Jesus. Peter doesn't start reciting the Lord's Prayer he learned eight chapters ago. Instead, Peter cries out from the bottom of his heart, "Lord, save me!"
This is no different from our prayers today. There are times when the most beneficial prayer is crying out to God in our own words, regardless of how simple they are. Especially when "Lord, save me" is all we can come up with.
How Often Should I pray?
This is a question that is asked much more than you might think. I think this directly ties into a fear many people have of not praying the "right way." I recently spent time on social media asking several Catholics this question. "How often should we pray?" Again, my concern wasn't with who are the best Catholics. I simply wanted to hear the feedback I would receive.
Many people were quick to tell me, you have to pray at least three times every day. Others were comfortable with just when waking up and going to sleep. I talked to several Catholics who make sure they pray before every meal.
As far as the right or wrong amount of prayer, let me just say this. If you are only praying when you need something, you are not praying nearly enough. It's not that you will pray for something God doesn't know is on your mind. He wants to be a part of your daily life. God wants you to know Him better, more personally. Praying is a significant part of this.
I have a challenge for you this week. Spend every day praying more than you did the day before. This doesn't have to happen all at one time. Start building the habit of praying more throughout the day. Regardless if you prayed once yesterday or five times. Try to add to the time you spend communicating with God today. Now would be a perfect time to start.
Heavenly Father, my concern isn't with being perfect at prayer. I just want to be closer to you than I am right now. Guide my thoughts throughout the day, leading me to spend more time with You. Amen.
---
How often do you think one should pray?
Let me know below in the comment box!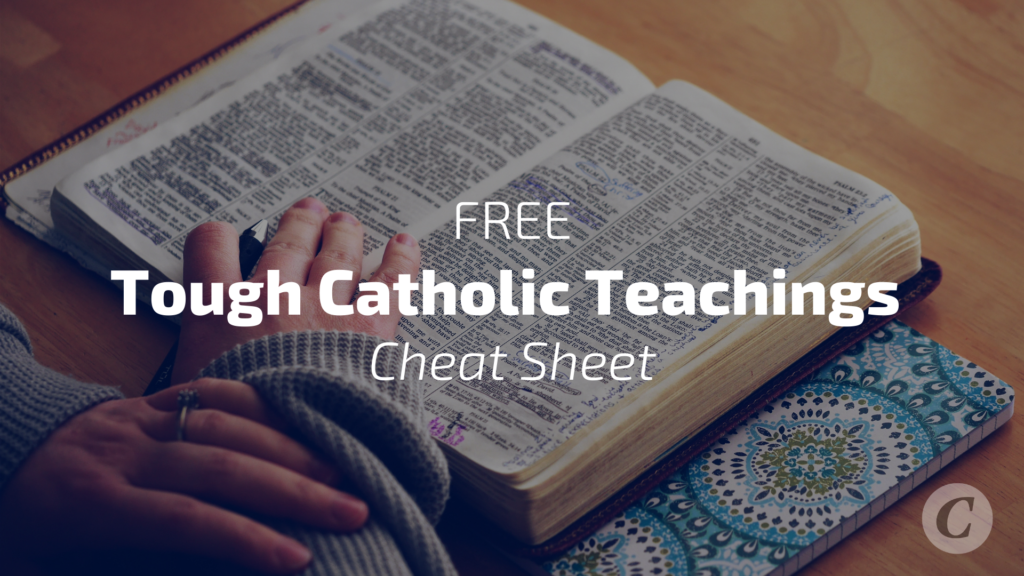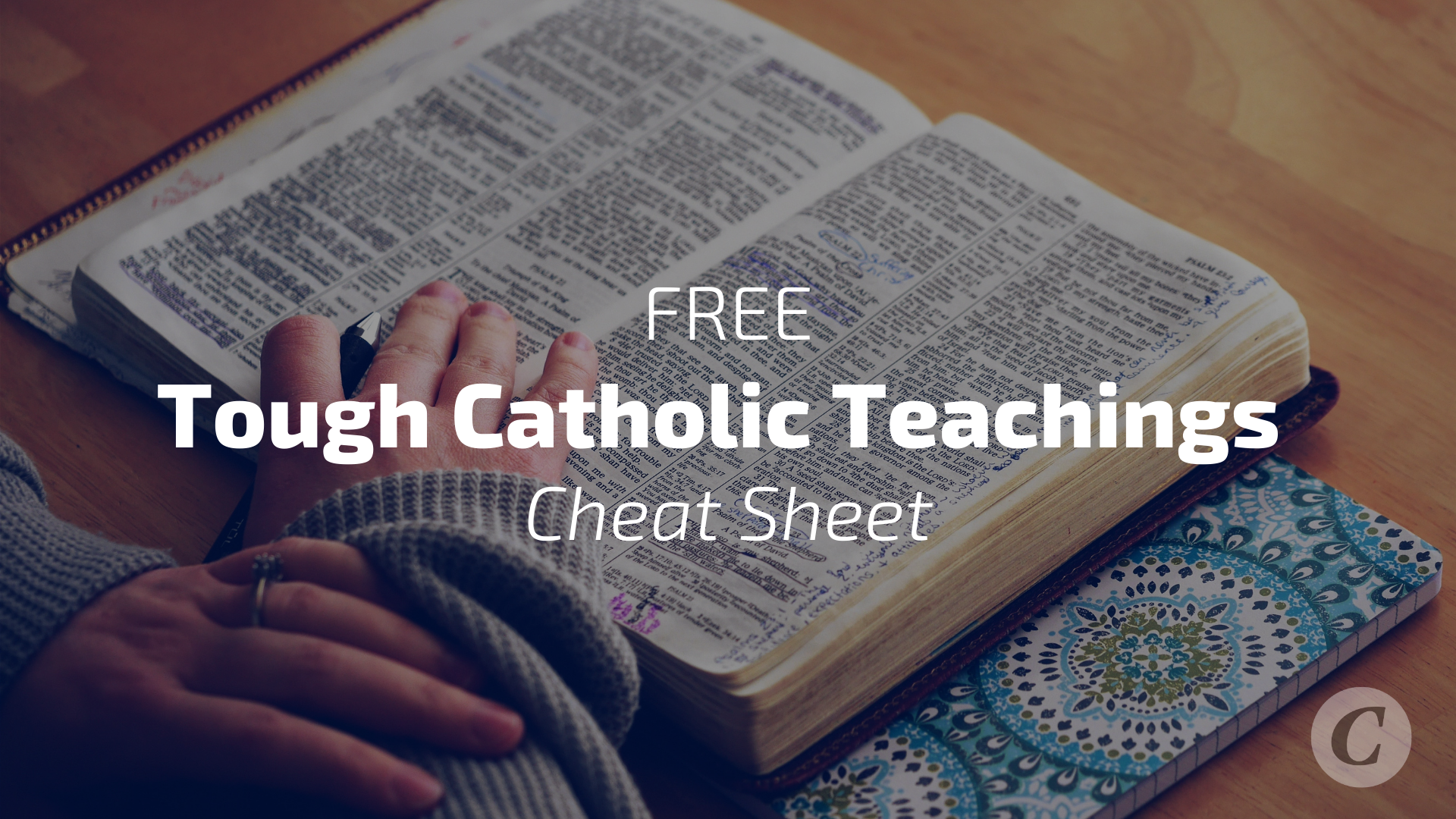 ---
Are you often asked what the Catholic Church teaches about tough subjects? Are you curious about what the Church teaches?
In this Tough Catholic Teachings cheat sheet I provide for you direct links to the paragraphs in the Catechism of the Catholic Church that speak specifically about these tough topics.
You won't need to go searching for what the Catholic Church actually teaches about these subjects as you will have direct access to the Catechism's teaching all in one place!