A few months back I didn't know what to do…

In preparation for my monthly Confession, I sat down with the Ten Commandments for an examination of conscience. I started going line-by-line, reading the possible sins that I'd committed against God, slowly realizing that none of the sins on the list resonated with me.

Yes, they were sins that I had committed many times before in my life, but they just weren't sins I was struggling with anymore. I felt uncomfortable. Did I not have any sins to confess? Or, am I just too prideful to recognize my sins? What was going on?

Well, I ended up going to the priest for confession to seek counsel, and what he told me was simple but profound: "You're growing closer to God."

He told me that what I was experiencing was an invitation to go deeper. To look closer at my heart and how I was or wasn't loving God and my neighbor. He invited me to consider using the Beatitudes for my examination of conscience instead of the Ten Commandments. And let me tell you, this was powerful advice.

Now, I don't want to pretend and act like that's my experience every time I do an examination of conscience. Because it wouldn't be true. There are many times where there are clear serious sins in my life that I need to confess. However, I have found that when there aren't those clear sins that I need to confess, turning to the Beatitudes help to recognize my need for God's mercy and grace.

With that in mind, I thought I'd share with you an example of an examination of conscience that uses the Beatitudes. Maybe you'll find it useful!
---
An Examination of Conscience Based on the Beatitudes
BLESSED ARE THE POOR IN SPIRIT, FOR THEIRS IS THE KINGDOM OF HEAVEN.
Have l truly recognized my complete dependence on God?
Have I been proud, arrogant and self-righteous?
Have I been selfish, greedy, possessive and self-seeking?
Have I sought after status, recognition, power, material possessions and wealth?
BLESSED ARE THOSE WHO MOURN, FOR THEY SHALL BE COMFORTED.
Have l endured difficulties and afflictions with faith and patience?
Do I have compassion for the poor, the hungry, and addicted; the sick the lonely and the sinful of the world?
Have I truly been sorrowful for my sins and faults?
BLESSED ARE THE MEEK, FOR THEY SHALL INHERIT THE EARTH.
Am I gentle with others, or am I harsh in my behavior?
Do I seek to dominate others at home, school, work, office, church and elsewhere?
Have l lost my temper?
Have I nursed hatred in my heart or the desire for revenge?
Have I been impatient, resentful, bitter, unforgiving or insulting and abusive to others?
Have l loved my enemies?
BLESSED ARE THEY WHO HUNGER AND THIRST FOR RIGHTEOUSNESS, FOR THEY SHALL BE SATISFIED.
Do I thirst for holiness?
Do I truly yearn for God's Will to be done, in my life and in all things?
Have I tried to cultivate a righteous and holy life through prayer, fasting, almsgiving, worship, the reading of Holy Scripture, frequent Confession and Communion?
Have I been lukewarm in my faith?
Have I been lazy, negligent or apathetical?
BLESSED ARE THE MERCIFUL, FOR THEY SHALL OBTAIN MERCY.
Have I been merciful to others?
Have l turned away from someone who needed my help?
Have I turned my back on someone poor, hungry, rejected, lonely and needy?
Have I tried to understand and to forgive others?
Have I been indifferent or judgmental?
BLESSED ARE THE PURE IN HEART, FOR THEY SHALL SEE GOD.
Do I love purity and honesty?
Have I been dishonest in my speech or actions?
Have the motives or intentions of my actions been evil or selfish?
Have I given way to lust, impure thoughts, words or deeds?
Have I been guilty of prejudice?
Have I been hypocritical, pretentious or self-indulgent to sinful passions?
BLESSED ARE THE PEACEMAKERS, FOR THEY SHALL HE CALLED CHILDREN OF GOD.
Am I at peace with God?
Do I have His peace in my heart?
Have l been angry, aggressive or impatient?
Do I foster peace at home, work, church and community?
Have I been irritable or polemical?
Have I caused division and discord?
Is my criticism harmful and disruptive, or does it build up others in charity?
BLESSED ARE THOSE WHO ARE PERSECUTED FOR RIGHTEOUSNESS SAKE, FOR THEIRS IS THE KINGDOM OF HEAVEN.
Have I complained when persecuted for God's sake?
Have I prayed for my enemies?
Have I failed to defend people who are fight for fear of humiliation or persecution?
Have I had the courage to stand up for the truth despite criticism, ridicule or persecution?
Am I afraid to witness my faith in Christ Jesus?
BLESSED ARE YOU WHEN THEY REVILE YOU AND PERSECUTE YOU ON MY ACCOUNT; REJOICE AND BE GLAD, FOR YOUR REWARD IS GREAT IN HEAVEN.
Is the joy of Christ in my heart, even in trying moments?
Do I give thanks to God in all circumstances, or do I complain often?
Have I been pessimistic, negative, despondent or despairing?
Have I truly delighted in the promise of God's treasures in heaven?
---
Can you relate to my experience or do you have any tips you'd share for preparing for Confession?
Let me know below in the comment box!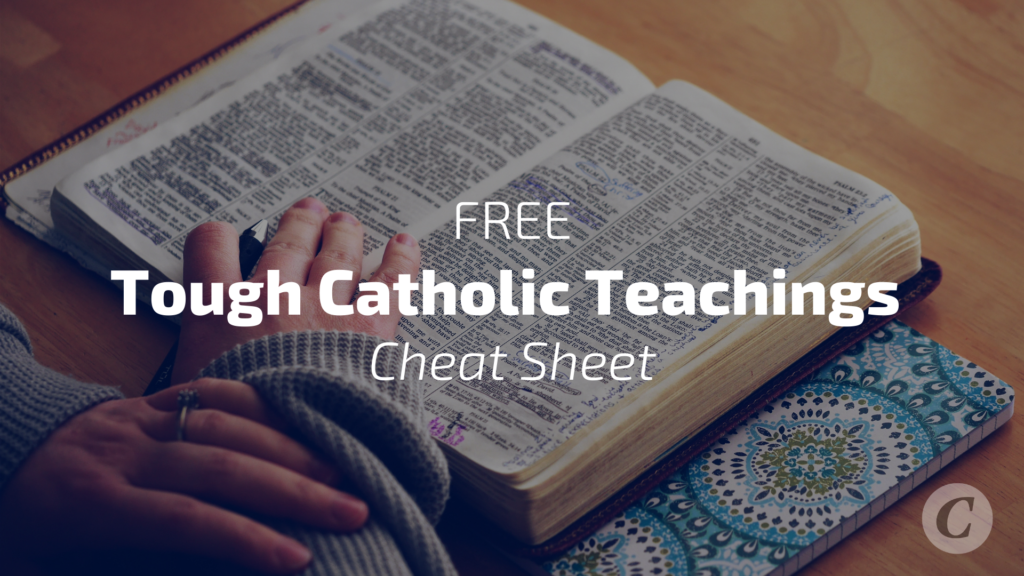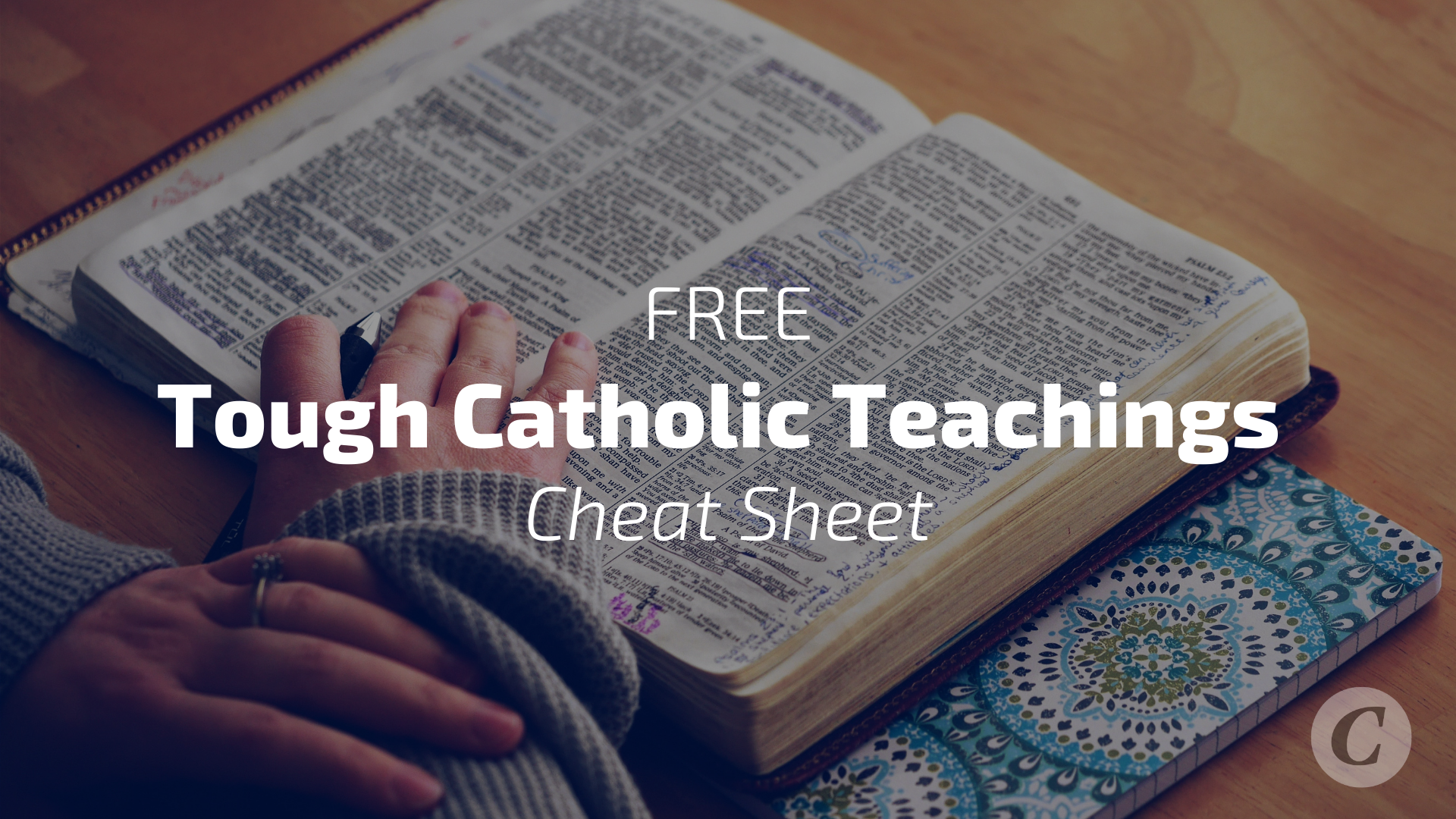 ---
Are you often asked what the Catholic Church teaches about tough subjects? Are you curious about what the Church teaches?
In this Tough Catholic Teachings cheat sheet I provide for you direct links to the paragraphs in the Catechism of the Catholic Church that speak specifically about these tough topics.
You won't need to go searching for what the Catholic Church actually teaches about these subjects as you will have direct access to the Catechism's teaching all in one place!